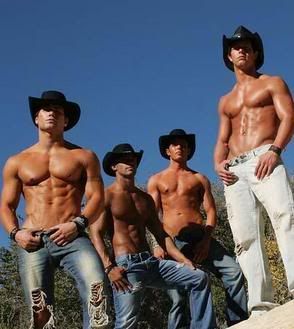 Dirty thoughts abound with the likes of these hotties.
What is it about well built men in jeans with no shirt? I have no idea. Maybe my lusty thoughts started with the Marlboro Man waaayy back in my childhood. I like my men, manly. Plaid shirts, jeans, work boots and musky. No, I'm not saying I like BO. I like the natural clean scent of a MAN! There isn't really a part of me that would be with a woman. Woman are too soft for me as one of my favorite things about a man is the differences in our bodies.
The first thing I notice on a guy is his face. If I find him hot I will take in the whole package, chest, legs, height, etc. However, even if I don't find him hot! I will look at his package anyway. Does he have a bulge? Is his package to the right, left or unseen? If it is unseen that will be the last glance. However, if there is a bulge, I will continue looking.
Knowing that most men, when they talk to you, check out your chest according to my husband, I see nothing wrong with taking a glance. I don't agree with him that all men check out breasts, some are more cool about it than others.
I have polled my friends to see if my interest in bulges is normal, but the last 6 polled say no. They don't notice. Does this make me odd? Am I a freak? Sex addict? No, I think this just makes me very sexual. I seriously want to know what everyone is sporting in their pants. Also, I feel like by looking at a guys face, I can tell what kind of cock he has. It is short, fat, big headed, pink, brown, circumcised? I think I can tell. Has it been tested yet? No! But, it would be interesting to see how many I could get right.
WOW! Wow! Wow, wonder what this would look like in pants